Event / Hire Pricing

Before we can provide you with a quotation we will need the following information:

Your full name, address, contact numbers, email address, event address, event date, any set-up or take-down restrictions, details of equipment required or number of guests to be seated and / or standing, distance the equipment needs to be carried from our vehicles to the set-up point and any other useful info.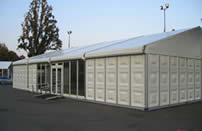 We also require the following information so we can establish if a site visit is necessary:
Is the site level?
Is it grass or hard-standing?
Are there any shrubs or bushes or trees that could be an obstruction for the marquee?
Is the marquee to be erected against a building and if so which dimension (side) of the marquee?
Do you have limited space for the marquee, if so what are the dimensions?
Because no two events are the same we do not provide illustrative prices.
Please feel free to contact us for your free, no obligation quotation.